Hello, Cozy Gang!
I hope you all had a lovely weekend; ours was very windy! The guys and I got out to do some kite flying yesterday and I did some backyard gardening. I've been growing a couple strawberry plants from seeds planted last year and they're enjoying the spring weather, and I recently began to grow some sunflowers and lily-of-the-valleys also! Do you enjoy any outdoor hobbies like gardening?
Spring Fever has me, and for that I've selected the wonderful indie farming/life simulator Stardew Valley as my next game for Tuesday Streams! As an added bonus, I may have special guests pop by to help out with the farm from time to time!
Events and Appearances Update
I have a quick update about an upcoming event; on this Saturday, May 6, I will be at Soundwave Comics for my first Free Comic Book Day appearance since 2018! Come by and see Greg and the gang, me, Albert Capitan, and first-timer Jose Pares and pick up some art and merch, and free comics from the shop! It's going to be a great time!

All my other upcoming events and appearances can be found on this page.
Streaming Schedule for week of May 01
Monday 7:30PM EST – Art Stream working on Cozy Sticker Club designs for May!
Tuesday 3:30PM EST – Gaming Stream beginning Stardew Valley!
Thursday 7:30PM EST – TBA Art Stream – Fan Vote Winner!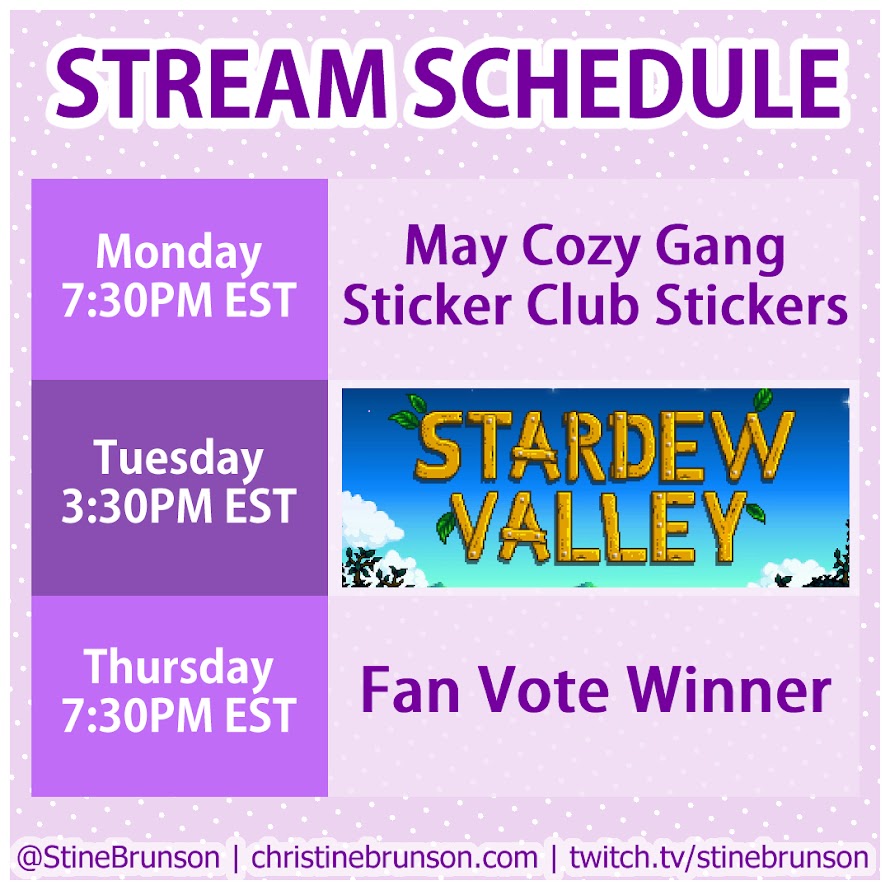 Please come by and check out the stream Monday and Thursday at 7:30pm EST for artwork and chatting, and Tuesday at 3:30pm EST for gaming! As always, follows and subscriptions are appreciated but never required!