HELLO, COZY GANG!
I hope everyone's doing well, I've got a new format for streaming! I am now streaming four days a week, with two days for art and two for gaming!
I've begun streaming on Wednesdays as well, playing Minecraft in a Hardcore world! I died on the 41st day on my first go, and I'm on Day 24 on my second attempt so we'll keep it going as long as I can!

Let's get to it!
Streaming Schedule for Week of September 11
Monday 7:30PM EST: Cozy Art – Lotte from Little Witch Academia
Tuesday: 4:30PM EST Cozy Gaming – Cult of the Lamb – More Dungeons!
Wednesday 6:30PM EST: Cozy Gaming – Minecraft Hardcore Season 2 Episode 3 (Day 24)
Thursday 7:30PM EST: Cozy Art – OC Halloween Art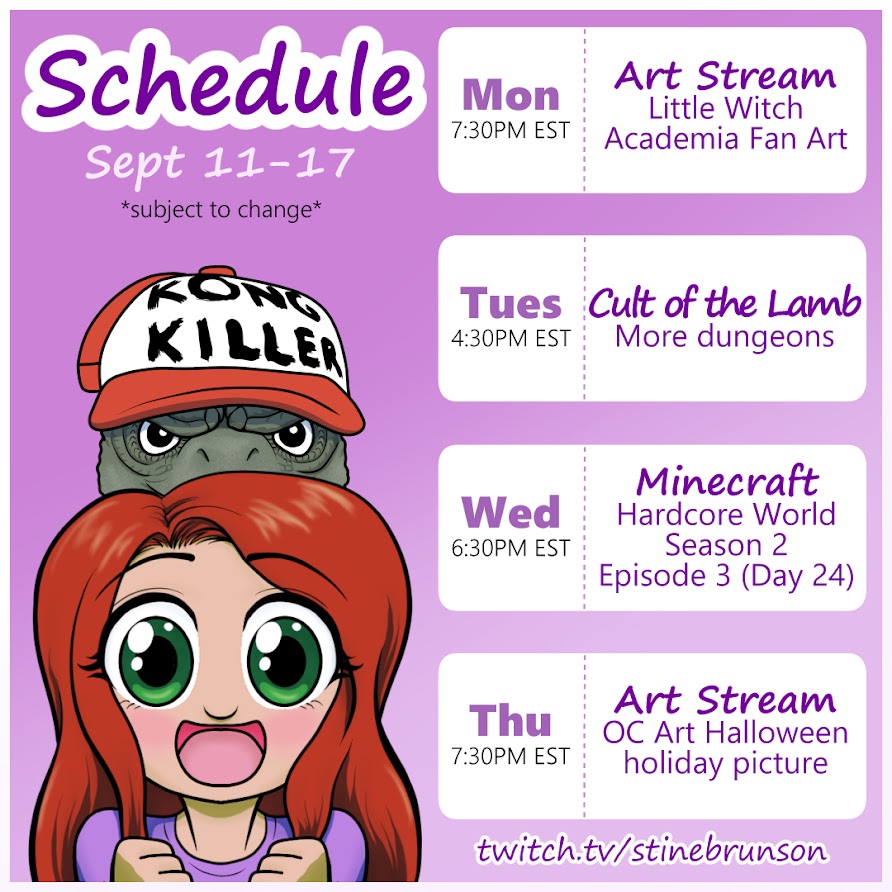 Hope to see you in chat!

Please come by and check out the stream Monday and Thursday at 7:30pm EST for artwork, Tuesday at 4:30PM and Wednesday at 6:30PM EST for Cozy Gaming with Christine! As always, follows, bits, donations and subscriptions are appreciated but never required!