Hello, Cozy Gang!
What a week! Thank you for coming by as I worked on the March *Catfinated* sticker designs and last week's fan vote winner, Princess Peach! I always love drawing Mario characters, and Peach is one of my favorites.
This weekend, after a hefty rain shower on Saturday that was perfect for cuddling up and snoozing some, my family and I set forth to a local cat café that opened up this year, Mews and Brews Café! I got to hang out with some very distinguished gentlemen named Hickory, Napoleon, and Kyle, and a super friendly young (and already adopted! yay!) lady named Reeses while sipping some hot chocolate. The kitties were so cute and Little Dude had a blast playing with them with a laser pointer. We thought Napoleon (a tuxedo cat) was going to sneak up and jump on him by an open window, but Napoleon instead opted to do his best MJ impression and take to the skies jumping from a couch back to a six foot tall book case! I can't wait to go back and hang with more kitties 🙂
Streaming Schedule for Week of Mar 20
A quick note; my schedule is changing back to an original format due to my son's classes no longer being so late in the day, so my Gaming Streams on Tuesdays will now revert to beginning at 3:30PM EST. Please come on by!

Monday 7:30PM EST: Art Stream featuring the March Cozy Sticker Club!
Tuesday 3:30PM EST: We fought a fish with arms last week, let's see what new horrors Black Mesa has for me this week!
Thursday 7:30PM EST: Art Stream with fan vote winner Princess Peach!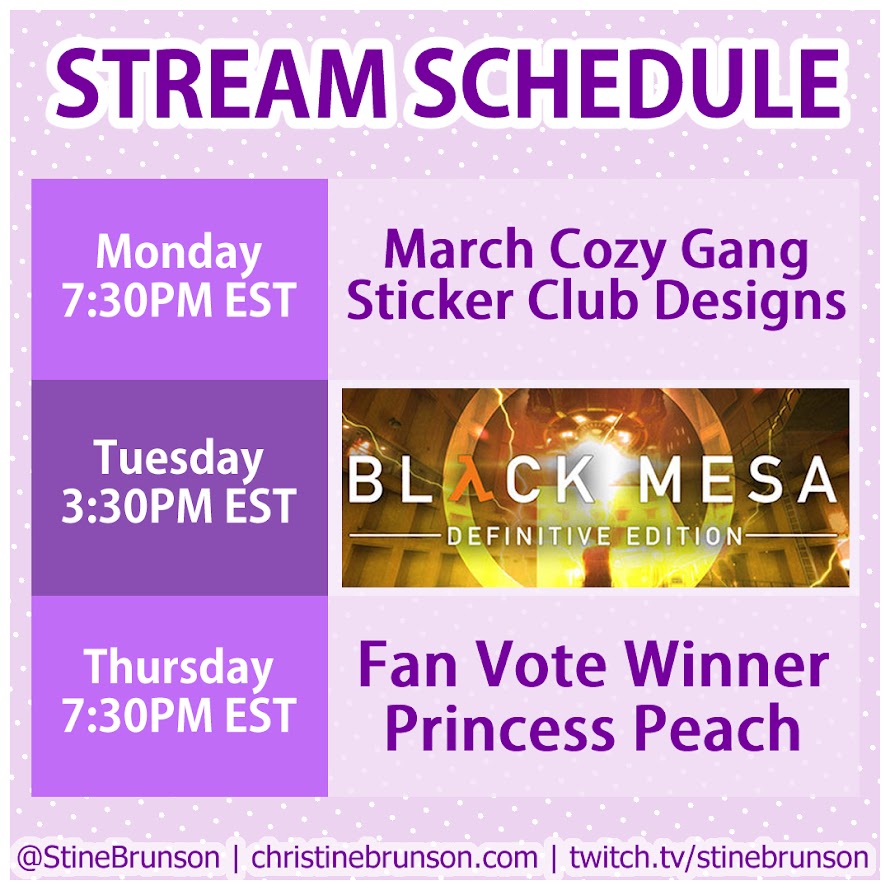 Please come by and check out the stream Monday and Thursday at 7:30pm EST for artwork and chatting, and Tuesday at 3:30pm EST for gaming! As always, follows and subscriptions are appreciated but never required!