Hello, Cozy Gang!
Fall feels like it's in full swing around here! I'm really enjoying the sweater weather, how about you?
Streaming Schedule for Week of October 23
I've got a busy lineup this week! Come by the stream and see what's good!
Monday at 7:30PM I'll be doing some My Hero Academia Fanart of Creation Hero and Class 1-A student, Momo Yaoyorozu!
Tuesday at 4:30PM I'll begin a new game I've had a while and been wanting to try! Let's play Night Reverie!
Wednesday at 6:30PM I'm continuing my adventures in Minecraft Hardcore – let's see if I can make it to a vaunted 100 days in Hardcore Minecraft!
Thursday at 7:30PM I'll be doing more of my Halloween OC pictures!
Tune in at my channel, I'll see you then!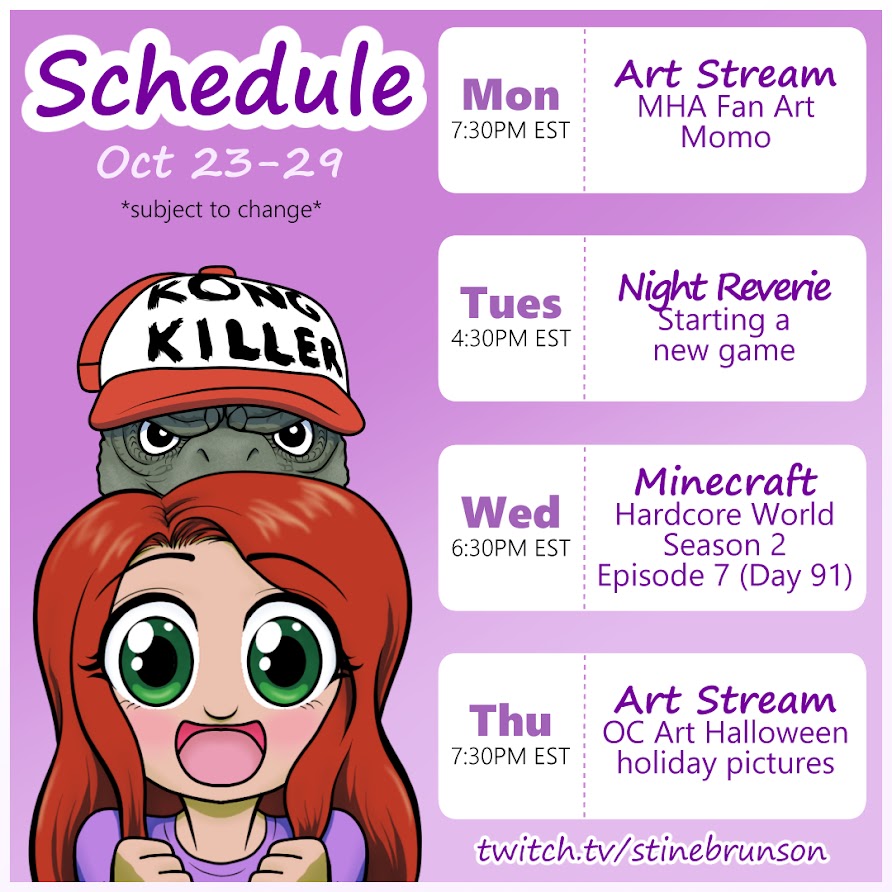 Upcoming Appearances
Just a housekeeping note and a reminder for all, my last two show appearances will be at the end of October and the beginning of November! I will be returning to Greenville, SC for SC Comicon JR on Sunday, October 29 at the Greenville Convention Center and I'll be at the Geekery Market in Concord, NC at the Cabarrus Events Center the following week on November 4. Come by and support local art, say hello, and get cozy for the Fall!
Please come by and check out the stream Monday and Thursday at 7:30pm EST for artwork, Tuesday at 4:30PM and Wednesday at 6:30PM EST for Cozy Gaming with Christine! As always, follows, bits, donations and subscriptions are appreciated but never required!